Hi,
I have kind of an serious problem - I also sent this to testing@emclient.com but I thought it might be good to also post it here:
I received an E-Mail and one of the two attached PDF files was corrupt.
The file shows in em client as 100 kb, but when I save it, its only has 28 kb and cannot be opened. It also cannot be opened directly without saving.
As it´s an IMAP account I looked in the web-interface and there the file shows as 100 kb, and can also be saved and opened as the 100 kb file.
I then moved the e-mail around in em client (to a different IMAP account) and now the corrupt 28 kb file is also on the Server. So I supposed the PDF file was somehow corrupted / gotten smaller and when moving around em-client uploaded the corrupted file to the other IMAP account.
Thre is also a signature error with this e-mail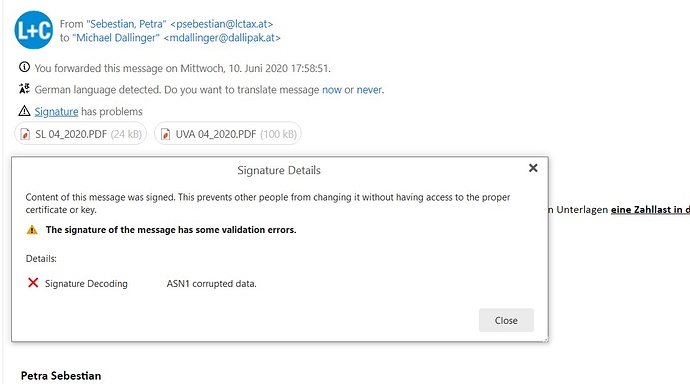 Edit: I also have a second e-mails of this sender with the Signature problems and one corrupted PDF attachment.