Hi.
I am a new user of eM Client and so far I am comfortable with it. My PC uses Windows 10 which means it comes preinstalled with the Mail app to manage mail, but I decided to try other alternatives and now eM Client is my default mail app.
I have installed the client and added my Gmail and Outlook accounts without any problem and the client configuration is intact after adding my accounts but I have a small problem.
I have done an experiment to know how eM Client responds when new mail arrives to one of my accounts, so the experiment consists in keeping the client open and from the browser send a mail message to myself, the result appears as a notification from eM Client in the Windows notification center in less than 10 seconds after the message has been sent. A notification almost instantly by new email incoming is something I'm liking about eM Client.
But here comes the little problem. I do the same experiment with the client closed but I don't get any notification, so the client must be open all the time to notify me of new mail? eM Client does not run in the background after being closed? I remember that the Mail app that comes with Windows does run in the background, and even when is closed it would notify me of new mail arriving.
The attached image shows the notifications section, which I have not modified after installing eM Client, and everything seems to be fine.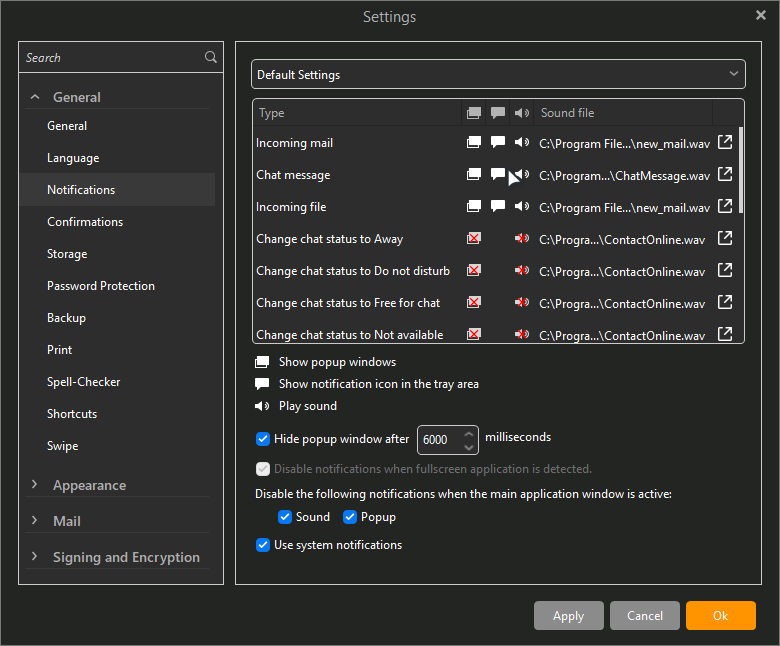 So did I miss something in the configuration? Is there any configuration that can help me so that eM Client notifies me for the arrival of new mail when the client is closed? or does eM Client not have this feature?
I look forward to your help and thanks in advance.
Good day.