Hello, in Italy we use a special mail called "PEC", all messages coming from this PEC are signed.
Unfortunately eM Client does not seem to be able to read the contents of these messages.
It complains the "Signature has problem", "The signature of the message has some validation errors" (see attached screenshot).
When I try to open the message it can't properly read the contents.
I even tried to save the message as an .eml file but the message seems to be corrupted.
I'm sure it's an issue with eM Client and not with the massage itself because when I download the same message from the online Webmail as an .eml message, all mail clients (Windows Live Mail, Thunderbird, eM Client) can open it and view its content without any problem.
—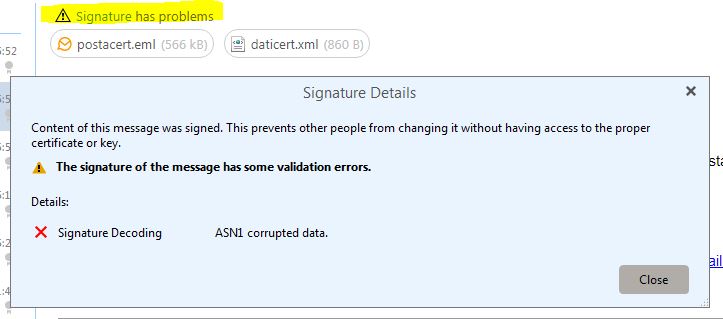 OS: Windows 7 Pro 64bit
em Client version: 8.0.2951 (e2fe9f0)