it would be great if you showed the url when you hover over a link in a message.
Dan
URL Links are shown at the "bottom of the body" in the email when you hover over the url. See example below.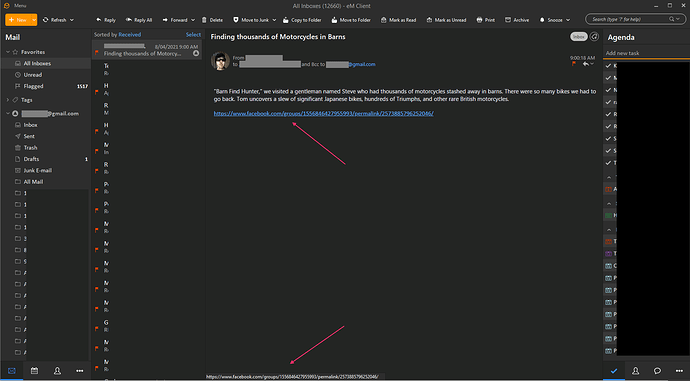 There is a bug in eM Client. URL link is not shown when hovering over images and URL links if mail has longer body. URL links don't show in second half of mail body.
You can try e-mail stored at http://leteckaposta.cz/878510498
Link will be valid until 10 May 2021
That's very true. Short emails work fine but links in long newsletters don't work.
Yes, it is. Long newsletters are precisely the ones, where URL link showing is important…
I have also just tested a long email with mailto and url links and yes as you go down the page hovering (no url) shows when hovering further down the page. Using current ver eM Client V8.2.1126
This does sound like a bug as the hover links showing at the bottom of the body should definitely show (right to the bottom of the email) and not just near the top part of the emails.
I see too if you "Reply or Forward" and hover over the mailto or url it (does show) the hover links "right on it" (rather than at the bottom of the body).
It appears to be around eg: page 4-5 onwards in the body of long emails where the hover url does not show as you go down the page.
Ps I personally would also prefer to see the hover links (right on it) like when you are replying or forwarding rather than at the bottom. I think its more user friendly to show right there when hovering.
You are right. The URL link should show near (under) the pointed link, not on the bottom line of the window