Stick with me here, this is: Not the usual suspects.
I have an IMAP account setup, working fine. Lets call it - No.1@email(dot)com
This email address has an 'ALIAS' setup on the SMTP server. Lets call it - No.2@email(dot)com
So anything sent to No.2@email(dot)com gets redirected at the SMTP server into No.1@email(dot)com's email inbox.
So in my clients, I have always setup a second account, for No.2@email(dot)com. It cannot login to any servers, so I usually delete or untick any mail receiving options. However, occasionally I need to send email OUT using the alternative address of No.2@email(dot)com.
So I have setup this environment in emClient, and it works well, from what I can tell/see. However I needed to check an email actually went after I had an internet connection issue just as I hit the send button on an email addressed from No.2@email(dot)com, and received a send error. Behold my amazement when I realised, the emails sent from No.2@email(dot)com were not in my sent items. I tested this three more times to another email account. The emails arrived, sent no problem. But NOTHING in my Sent items folder.
So you say - Of course, they are in Sent Items for No.2@email(dot)com, or you would think. But there is no No.2@email(dot)com folders showing, ANYWHERE! None to be found. Errg.
What's the deal? How do I find the emails sent from the second alternative SMTP account?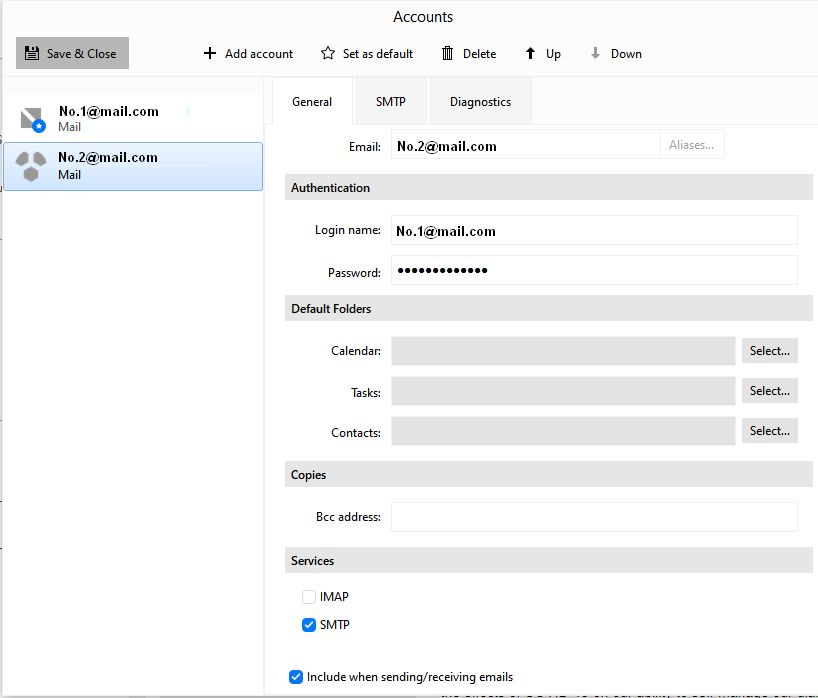 Every time I have done this before in other mail clients, the emails either show up in the Primary email address folders, or there are a second set of folders under the alternative account, like having two full blown email accounts in the one client. But emClient… NOTHING!
But in doing all this, I have found I can add an "Alias" address to the primary account. So I tried this… However now, in the Sent items, it says it was sent by No.1@mail(dot)com, NOT by No.2@mail(dot)com, This is really confusing, because now I can't filter/search for all emails sent by the Alias, No.2@mail(dot)com!
Anyone been down this road before? Did you find a solution/setup you could help me with?