Hello,
I have a big problem to reinstall eM Client (lifetime license).
The software did not close properly earlier. This happens from time to time, and the only way to get out of it is to uninstall completely (with deletion of the database) and reinstall by restoring my last automatic backup.
So I loaded the latest version (which was already installed) but no matter in which directory I load the *.msi file, I get this message, and I can't go further in the installation.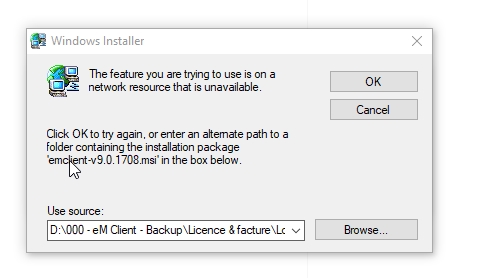 I don't understand where the problem comes from, since of course I put the installation file on my D drive locally. Same problem if I put the file on my C: drive.
(If my screenshot doesn't appear, there is the error message :
""The feature you are trying to use is on a network resource that is unavailable.
Click OK to try again, or enter an alternate path to a folder containing the installation package in the box below""
… and I can point to the local directory where the *.msi file is located, the message is always the same…
Help;-)