What is the exact version you are running?
@dras2 That screenshot error restriction is when you are trying to view (attachments only) when you click the (3 dots) at the bottom left and yes would need to "upgrade to the pro version" to do that.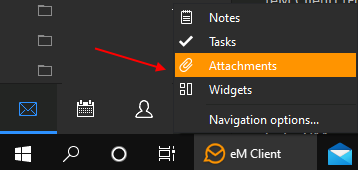 However there is other ways you can view (emails with attachments) with the free version in the different layout views. See below extract from the end of the below thread.
Delete multiple attachments - Mail - eM Client
(Extract from above thread)
With the free EMC version you can view & delete (all emails with attachments), by clicking the "Paper clip" icon at the top of the messages (Top right). Or click the "Received" Text at the top of the Subject and select "Attachments" on the menu, depending on what (Layout) view you are using.

I am running version 8 which I loaded in January of 2021
Do you know WHICH version 8? (Menu > Help > About)
The latest version in the Release History is 8.1.1060, but many users have 8.1.1087 which was given elsewhere on this forum.
Release 8.1.1087 (d63975c)
Just tried to open a 47k XL file and it errored out took 2 minutes to give error. How can I go back to release 7. Is there an archive for old releases? This problem has to go!
Thanks for this. I am worried that the complexity of doing this will lead to a loss of data and stuff that works. The best I can hope for is that EM client is getting enough detail about the bugs and will fix it.
When you go to open attachments instead of dblclicking on the attachment (hover your mouse) over it and click open.
Failing that right clicking on the XL attachment and save or save as instead to see if it will even save locally and open that way for a test.
If you also cannot save & open it, then you either have a program interfering with it, or you have a physical internet connection problem and your eg connection might be not stable enough.
What you have written here does not work. PDF, Word even small files 30K, XL files don't always save or open. And either EM support or the user's group have not helped is resolving the problem.
EM goes to save the file spins for 2 minutes and fails to open or save the file. SOMETIMES if you try a 2nd or 3rd time you might succeed in saving the files.
No one either EM support or this user forum have provided an answers and it looks like many people experience the same thing. And Yes this all started with Version 8 and I am looking for version 7 to solve the issue. I have never seen a roll out perform so poorly as the launch of V8 and I am an IT professional. Your Beta test failed to surface the bugs. As I read the forum I see that people with the paid version are having the same issues.