A while ago I started getting a dialog box every time my email was sync'd.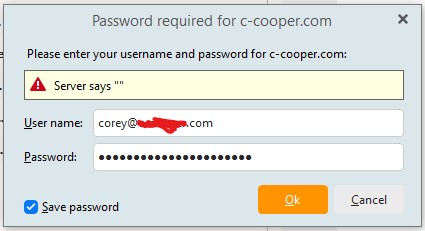 Note that this was for just one email account out of three, this and two others being "Exchange Web Services" from GoDaddy. If it matters, the one that started this is my 'primary' (first created) account.
I put in my password, which had not changed, but it came back up. If I hit OK, it pops right back, if I hit cancel, it goes away until the next sync but I get all my emails and all are sent. I hoped it would be fixed in the next update of eMClient, but it wasn't, so I continued to just hit Cancel until I had time.
Now it has started with another one of the three, the first one acts the same, the second gives me the same message, but no matter what I do it will not receive or send emails. When I use the same password on the webmail version, it works fine, and Outlook on my phone is unchanged with the same passwords for both accounts and works fine as well.
Now as I have been writing this, I have stopped getting the dialog box on the second email, but I still cannot send and it will not receive email, while webmail and Outlook on my phone work fine. The first account still pops up that dialog box and works once I hit Cancel.
I realized that under "Accounts" I noticed the diagnostics was on for the first account but not the second, so I turned it on for the second account. I just turned off "diagnostics" for the second account and now the dialog box is back, but it still does not receive emails.
Confused!
Corey