Hello…
On Saturday night (20210619), I received a pop-up window telling me that the license is no longer valid. Thinking it was a glitch, I proceeded to scour my emails and found the license for the program. I copied and pasted it but nothing happened. The same error occured.
I went to the site and d/l'd a copy there. It was 'emclient-v8.2.1473.msi' and I proceeded to run the repair program. It didn't help.
Since I keep a daily backup, I wasn't too concerned and I uninstalled the entire program including the registry entries. At least that was what my uninstall program assured me it had done.
Ithen rebooted my systrem and installed a fresh copy of eMClient. I then loaded my latest backup and copied my license info. When I clicked "activate" nothing happened.
I'm enclosing a copy of the pop-up window I keep getting.
Thank you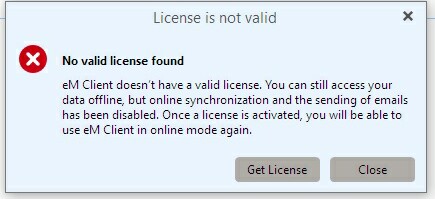 James Mayhew