Within Calendar and the days schedule it would be really helpful if it was possible to specify some additional timezones.
This is REALLY helpful when working with international teams, customers and individuals outside your timezone. As such GMAIL and Outlook only offer 1 extra TZ. Having the ability to add more than one would enable the user to see across multiple locations the time of meetings. This may not sound important but where a user is in a "border" time (e.g. 0700-0900 - kids to school etc) being able to accurately specify when a meeting is to occur is helpful.
These should be displayed alongside the existing (Home) Time Zone
GMT PST EST
0900 0100 0400
1000 0200 0500
…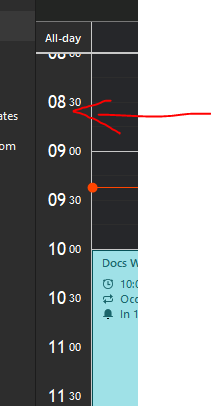 One concern may be screen space, however this should be for the user to decide.