Hi,
I lost all my folders where I archived emails. Is there a way to reinstate them post upgrade? thanks!
Mine were 'hidden' in a folder entitled 'More' - directly underneath 'Archive' - which is collapsed by default.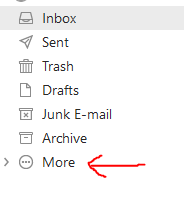 It might be that you have the same, in which case you can toggle the chevron '>' to the left of 'More' and they'll be there.
Hope this sorts it out for you.
Sorry - thanks for that didn't work for me. but thank you.
@wheatgirl If you lost mail folders (when you archived them), to retrieve them it all depends on the type of email account as to where the archived emails go.
Eg: If you have a Gmail account all archived mail from any folder goes to the "All Mail" folder.
Who's your email provider, & did you have an IMAP, / Exchange / POP acct etc.
Hi
Thanks for your help so far.
I never have backed up Emclient
I do have a Gmail account so I know all mail is there as a back-up
I did download emclient version 8 but can't seem to install it although I did use your directions - I don't see any differences in this version
I CAN click on an email (about Amazon, i.e.) and then 'send it' to a Folder already set up (Amazon). I just can't see those folders
I see the More thing you mentioned but don't see the folders there
I am back up EMclient now , the closing the program and will take another look.
@wheatgirl As everything is ok in Gmail online as you advised above, then its either your Gmail account is eg: possibly corrupted in EM Client and needs "Repairing" or needs "Removing Completely" and needs resetting up as new.
If you have any EM Client running with your Gmail account, (Right click) on "All Mail" under your Gmail account and click "Properties" at the bottom. Then click the "Repair" Tab at the top and click "Repair" as per the example below. Once repaired, close and reopen EM Client and see if the missing Gmail folders appear.
If the missing Gmail folders do not re-appear after doing the repair option as above, (as you have already done a backup of EM Client) and you cannot reinstall EM Client as you advised above, then uninstall EM Client again and delete the database when it asks you.
Then if you have Windows, open (File Explorer) on the Start menu, and go to C:\Program Files (x86) folder and delete the "eM Client folder" completely if it is there.
Then go to C:\Users\yourname\AppData\Roaming and delete the "eM Client" folder if it is there as per below example. You will need to (show hidden folders) to see this folder.
Finally try reinstalling EM Client V8.x again and setup your Gmail account as new and see if the missing folders come back.
Hi again, and thanks.
I will study this more but two things:
A) on the right hand side there is no ALL option (under In, Sent, Trash, etc.) unless I disabled it somehow.
I have a screen shot of this (but it won't attach here) but it shows the folders I can't see in EMclient seem to be stuffed in Gmail/trash in the Gmail platform.