Just composed an email to a contact group of 23, 3 of whom don't have email addresses.
I selected the whole group group to send the email to & it came up with a message (not unexpected):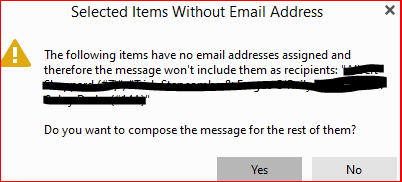 I said 'Yes' expecting it to drop the 3, but the email included the 3 (no email addr) contacts in the list of recipients. Unaware of that I pressed send & got an error message saying "Invalid recipients format - Do you want to send email anyway?"
It should not have got that far; the 3 (no email address contacts) should have been dropped earlier when I said Yes to "compose message for the rest of them".