Is is possible to set up an automatic forwarding of emails on a second email?
Forwarding them AFTER they arrive in the eMC inbox?
OR forwarding them BEFORE they arrive in the eMC inbox?
Forwarding them after they arrive in EMC inbox
Forward to PEOPLE or FOLDERS?
To another mine email for example a gmail.
So in this case i will use it as a backup of all emails i receive
Why not go to the 2nd account web mail and forward all mail to the Gmail account and then set up that Gmail account in eMC and remove the 2nd account from eMC.
i didn't understand you. isn't it possible through emc?
How about you defining explicitly what you want done when an email from your 2nd account is processed by eMC? That way I or someone else will be able to help you set up the RULE(S) to get you there.
I tell you in very simple way: i want that when i receive a new mail on eMC client, this client forwards this email to a custom gmail account automatically.
Hello, Stefan. Have you explored/played with the Rules feature: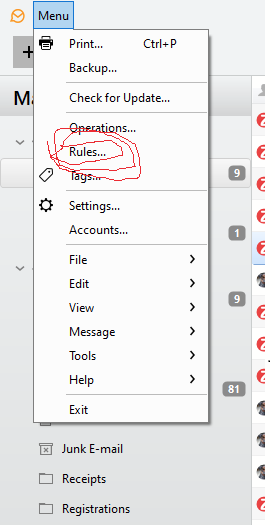 It's very obvious/self-evident how to do what you want once you dig in a bit.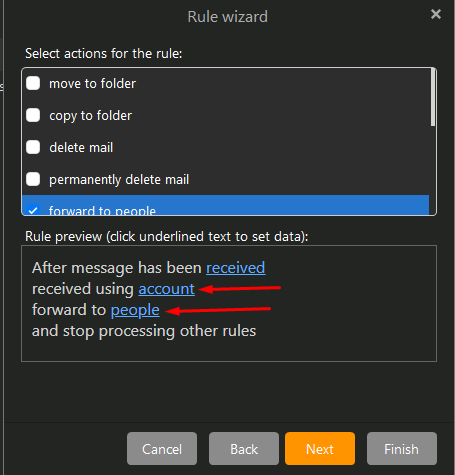 ACCOUNT is the eMC account of what you term the "2nd email"
PEOPLE is the email address to be forwarded TO
Stop processing other rules is self-explanatory