I can't apply rule to current mails in mailbox. How can I apply it for all mailbox history?
martes 01 marzo 2022 :: 1445hrs (UTC +01:00)
Right Click on the Mailbox where you want to apply rule and select 'Apply Rule'.
In the pop-up 'Run rule on folder' that appears select and fill in the appropriate items and click 'Run'
¡Saludos desde la soleada Sevilla en España!
Skybat
emc_forum@compucall.com
Hablo español, luego portugués e inglés, con conocimiento de varios otros idiomas.
I tried but it doesn't work anyway. I selected all folders and all rules to apply. Doesn't give an any error but nothing changes
It may be that the Rule is not correctly configured. Can you give a screenshot of the Rule?
rule runs after I made rule. Only the previous mails don't go to folders
I tried to explain on screenshot, couse interface is not english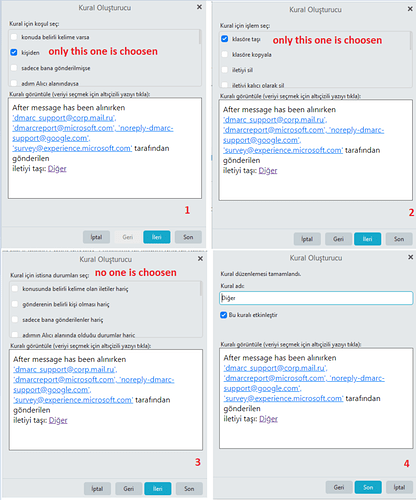 Is it possible you can change the interface to English, then take the screenshot again?
I can translate
1- from prople (conditions for the rule)
2- move to folder (actions for the rule)
3- empty (exceptions for the rule)
4- enable this rule button is enabled (finish rule configuration)