Hi all,
What is the procedure to upgrade from the free version 7 to the free version 8?
TIA
Download the latest version 8 from the Release History and install it.
Done.
If you have been using the version 8 beta, you will need to activate your Free License. To do that go to Menu > Help > License and paste in the license key you used previously on version 7.
You may also want to make a backup using Menu > File > Backup in case you decide you want to revert to version 7 as the database will be upgraded for version 8 and is not backwards compatible.
Thank you for the reply.
I have not been using version 8 beta, so will it just upgrade version 7?
I have lost my free version 7 license, will that need to be installed again and if so how do I find the license key.?
Thanks again.
Yes, it will upgrade from 7 to 8. I am not sure if you need to re-enter the license key, but if you do, and you don't have it, you can have it resent to you by entering the registered email address at https://www.emclient.com/lost-activation-key
Be aware that there is also a bug in the license dialogue. Clicking on Get License in the following popup will result in a 404 page error. If you need to get a new Free or Pro License, you can do that at https://www.emclient.com/pricing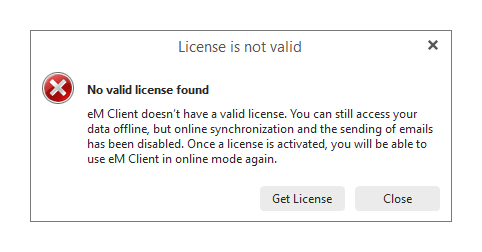 Just upgraded my free v7 to v8 and it appears that my license is only valid now for 1 month.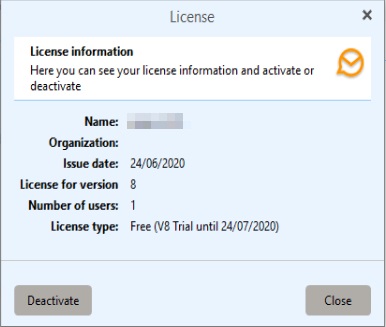 There were some issues with licensing since the release, and that may be the cause.
Did you try deactivate, then activate again?
I wish I had read the part about no backwards compatability before trying to update - I'm now stuck in limbo, unable to go back, and unable to upgrade to V8.
When I was notified today that I had 3 updates to do, I just went ahead and did them. They were for:
7.2.38732.0
8.0.2685.0
8.0.2703.0
When those updates were done, the first odd thing that I noticed was that there was no shortcut on the desktop (and the task bar) to eM. I created a shortcut and when I tried running eM, nothing happened. So I brought up TaskManager and it showed a task start up and run for 2-3 seconds and then disappear, each time I tried running it.
So I then did what Gary says above, downloaded v8 from the release history, and installed it. However, when I run it, I get an error, which offers to Repair eM. Here I get the following:
The file 'fil000645238E…' cannot be installed because the file cannot be found in cabinet file 'MailClient.cab'. This could indicate a network error, an error reading from the CD-ROM, or a problem with this package.
I hope someone can help me recover from this.
I think maybe your download did not complete. Also, you don't need to install all the updates, just choose that latest one.
Here is the link: https://www.emclient.com/dist/v8.0.2703/setup.msi
Once you have downloaded it, double click on the file (emclient-v8.0.2703.msi) in your downloads folder and it will install version 8 for you, or repair it if already installed.
Thanks, Gary.
I used the link above, ran the .msi and get a very similar error - the difference being that it's a different filename that's missing from MailClient.cab. So the repair fails.
Uninstall eM Client, but make sure not to delete the database directory when asked. You can uninstall eM Client by right-click on the application icon in your Start Menu, or in Windows app settings.
Once eM Client is uninstalled, you can try install it again from the downloaded msi file.
Gary, you're a lifesaver. Thanks. Uninstall/Install did the trick. SylviaJ thanks you.
did you ever get a solution? I got the same info in 'License type' when I upgraded to v8 from v7 today.
my v8 works fine, it is the message in the license type that is concerning me.
Thanks Gary uninstalled and kept database…didn't know you got that option,
Reinstalled version 7 works once more,not going near ver8 again !!