when receiving a message recipient sees an empty picture of the sender, how to fix it?
Go to contacts, double-click a contact to open. Click on the circle where the image goes and select image
Except manually adding. I have grouped messages from senders and their messages have a logo / icon. My guess is the "favicon" may be the cause. I set it up on my site, it is displayed but is there anything else?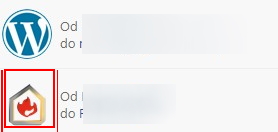 martes 12 octubre 2021 :: 0847hrs (UTC +01:00)
The best way to ensure that your Avatar is always displayed is to go to:
It is a free service.
¡Saludos desde la soleada Sevilla en España!
¡Mis mejores deseos y mantente a salvo!
Skybat
emc_forum@compucall.com
Hablo español, luego portugués e inglés, con conocimiento de varios otros idiomas.
but it is not about one e-mail address / user in the domain.