HELLO
i would like to ask you why am getting this msg while am free single user ?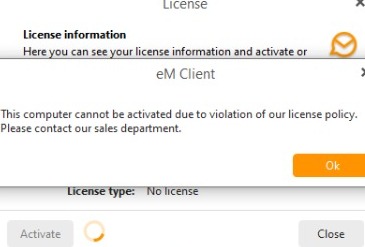 It is because you are suspected of using a Free license for business use.
An email was sent out last week to some users suspected of violating the license agreement in this way. The message gives instructions on what to do if your license was flagged incorrectly. Please just reply to that email, giving evidence that you use the license only for personal home use.
If you use the Free license for business, at work (even for personal use only), in school or in any other organization, you will have to re-activate eM Client with a Pro license.
thank you bro for your reply
@Gary Is there any transparent information available how the process of suspicion works? Are there any counters, mail reading algorithms or anything else integrated in the eM Client program, that evaluates personal data?