na upgraden steeds foutmelding bij verzenden
size limit exeeded
Are you sending a mailen with attachement? Look in de the logging for detailed information. Can you post it?
Beste sassefras,ja het is telkens bij een mail met bijlage,als ik dan de fouten negeer aanklik verstuurd de mail wel,maar bij elke mail komt die foutmelding terug.het is altijd dat de grootte limit overschreden is.de vraag is welke limit en waar kan ik die verhogen???
I had the same error. Could not find a fix.
Sending maiils or receiving is also not posible anymore after this error.
I solved it by removing the mailaccount in emClient. After a restart of the client, i added the account again.
Bedankt Sassefras,ik ga dat ook proberen.dank u
Beste Sassefras,ik heb de accounts verwijderd en vernieuwd en mijn probleem is opgelost.
hartelijk dank daarvoor!!!
groetjes
wally5
I enabled option in limitations for mail warning exceed 50 mb. Hope i can hold big attachements till they have a fix.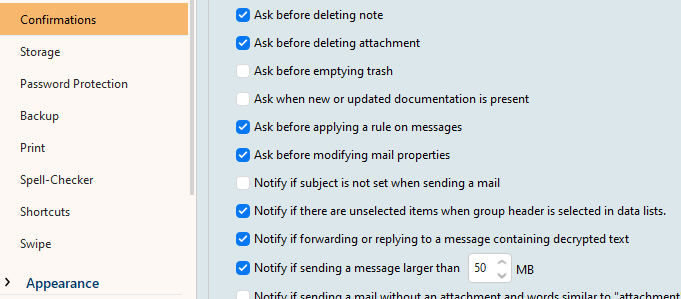 dat ga ik ook doen ,staat nu op 25