Hi,
I'm using eM Client version eMClient/9.1.2109.0 on Windows 10. I have just added Fruux and although my calendar is read/write, I'm getting the error below when trying to sync calendar and contacts created in eM Client. I initially thought it was because this event is created via Zoom but am having the same issue with contacts.
Can anyone recommend how to fix this? I've checked the advanced Settings and CalDAV is ticked for the calendar. On restarting the client, the same error appears and these items are still not syncing.
Thanks in advance.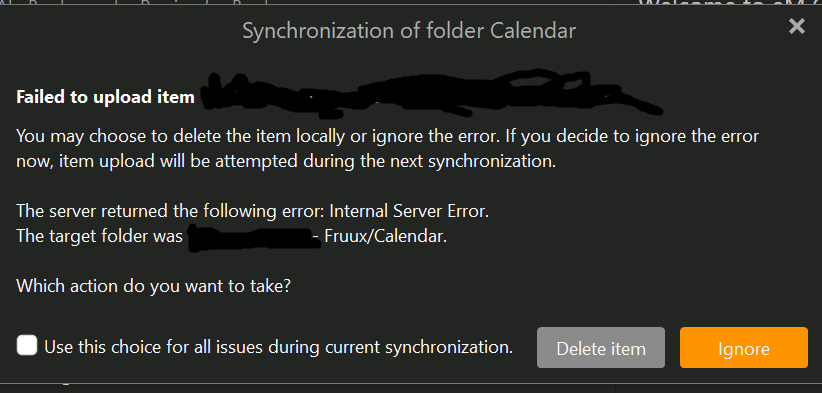 EDIT: I've had a look through the log and, although I'm not the best at this, it seems to be a server error? I think this is the relevant part.
22:47:11.010|02C| Response:
22:47:11.150|035| StatusCode: 500, ReasonPhrase: 'Internal Server Error', Version: 1.1, Content: System.Net.Http.HttpConnectionResponseContent, Headers:
22:47:11.150|035| {
22:47:11.150|035| Date: Wed, 17 Aug 2022 21:47:11 GMT
22:47:11.150|035| Transfer-Encoding: chunked
22:47:11.150|035| Connection: keep-alive
22:47:11.150|035| Server: nginx
22:47:11.150|035| Content-Type: text/html; charset=utf-8
22:47:11.150|035| }