I have two main computers I use at home: one in the shop and one in the office.
I downloaded and installed eM Client on both. I used the license activation key provided to activate.
When I have a day where I switch to the alternate computer, I get the following when I start eM Client:
eM Client doesn't have a valid license. I have to reactivate using my key.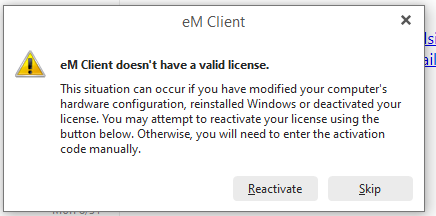 When I switch back to the other computer, I have to do it all over again.
I tried getting a separate license activation key, but I was told that one had already been issued for that email address.
What is the solution?