eMclient 8 (latest update) does not sync with gmail accounts: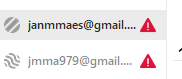 Go to Menu > Operations and look for an error in the Log tab.
Otherwise click on the red triangle and see what the issue is.
In that screen, change the port to 993, and the security policy to Use SSL/TLS on special port (legacy).
Then click on Save & Close, restart eM Client and see if there is any difference.
No, the SMTP settings are fine.
Maybe disable any anti-virus/firewall or VPN application and try again. Sometimes restarting the router also helps.
Do you have a license activated in eM Client? If not, do that as well.
Swiched off the router for a few minutes, switched off AVIRA real time securoty, restarted em client, all to no avail. Still only syncs calendar & contacts, mail gives 'connection failed' error.
License seems ok: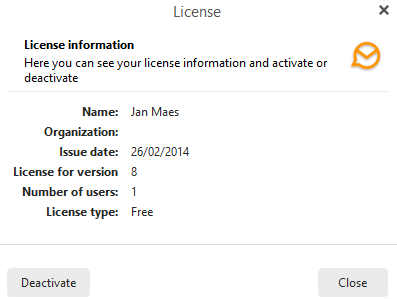 Something you could try is to remove that Gmail account from eM Client, then add it again.
Progress, I get new emails now, but still get the red triangle next to account name. Correction,I got some new mails, but now again nothing
I get gmails fine. But I also get red triangles a lot.
Maybe delete the gmail account, reboot and add the account again.
I have the same problem: Gmail does not sync with em Client 8. At the beginning I thought it's a beta-problem, but it is not fixed in the final version.
I tried different ports and settings fpr imap and smtp.
I disconnectet and reconnected my em Client and Gmail
I switched IMAP-Support in Gmail off and on again.
I deleted the Gmail account and reconfiguered it…
It did not help: It syncs contacts and calendar - but mails are only synced at the very beginning for one time then the red triangel appears…
And: I dont find any hint why it doesnt work. Just: "server cant be reached"…
I would be very glad, if someone could help and knows how to solve the problem!
I have uninstalled emclient 8 and returned to version 7.2
Hello,
I have the same problem.
I have re install Em Client 2 times.
Allways same results : synchronisation start anf after any time nothing…
Help !!!
You are not alone. Think I'll go back to last version until there's a fix