Hello once again and thank you in advance for your time and dedication.
I have a silly problem that's been bugging me for a while now. It has probably nothing to do with eMC per se, I'm just wondering if some of you have encountered a similar situation.
The laptop I use has eMC (v. 8.1.876 Pro – English language) and Windows 10 (French) but Microsoft Office 2019 has both French and English installed (and both as a display language and for authoring and proofing).
Now, if I send an email from within any Office app (image below), and if by chance, the file's name has French accent characters (à, é, ç, etc.), the result in eMC is awful as the accents are replaced with what I believe are UTF-8 characters. Recipients see them as such also.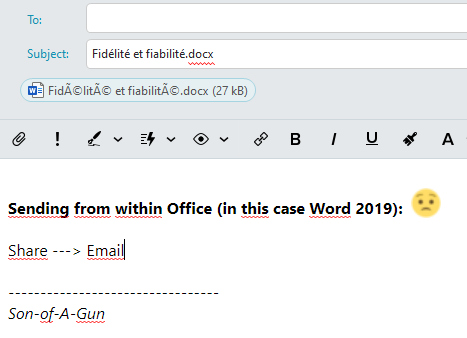 Note that switching from one language to the other (as preferred) in Office didn't change a thing.
However, everything is fine when I send files normally from within eMC (see image).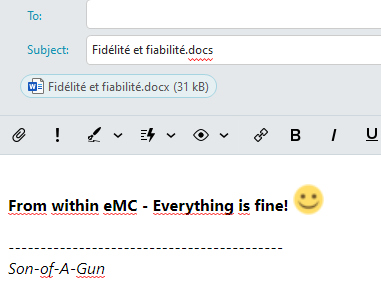 I had this problem with previous versions of eMC as well (8.1. and 8.0) but never with my previous email app (Thunderbird, that I've been using since v.0.4).
What could be done to avoid this gibberish in attachments names?