Hey there,
according to the title, I'm asking if it's possible, to completely unfold the left sidebar. When I start the eM Client, there are several folders on the left side. As you see in the picture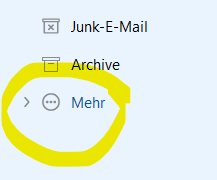 there's always this last entry with the little arrow-thing-symbol. Klicking it, unfolds the remaining folders. Well, I guess it's a bit needless to describe that, as you all know this.
Is there an option for "keeping this arrow-thing-symbol clicked" for the next program start up?
Thanx a lot!