Hi!
I would like to suggest 2 features for the management of my tasks.
1.)
Is it possible to add the number of tasks contained in a task folder at the end of the name of the folder? This helps me to see if a folder is empty or not.
e.g.: 00 Eingang (16)
2.)
Is is possible to add a color to a taskfolder? This colors are already used e. g. in iOS to color a task folder there (i use CalDAV to keep my tasks in sync). I wonder if it is possible to have a little sqare at the begining of the folder name of a Taskfolder in the defined color of the corrosponding tasklist. Just like the list "Tags (Etiketten)" which shows the tag lists (if actived in settings/general/display tags folder)
Thanks in advance!
The actual design of the task list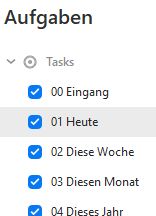 Example like tag list