In the contact list screen, emClient is synching and showing my personal Exchange contacts, but there is no option to add the company lists like "All contacts". So I am missing these contacts here and also when I try to create a calendar entry and try to invite other people.
When I try to show "Public folders" emClient just states, that there are none.
Here is the Outlook online view of the lists, that are not shown in emClient: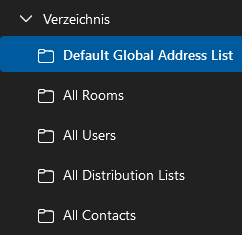 Maybe I am doing something wrong, but I don't find an option to work similar to the Outlook online functionality here because of this.