In the eMclient main window, at the top of the message list, I can right-click to get options related to column headings, sorting, etc.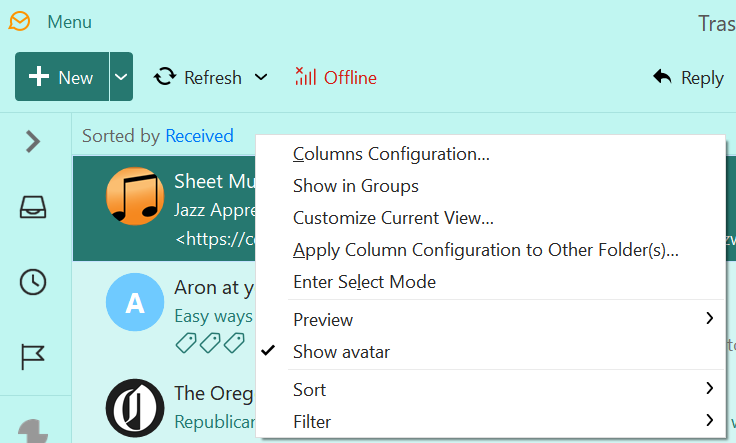 Q: Is there a way to get to this menu using only the keyboard?
I would very much like to be able to control sorting from a speech command.
At the moment I can write speech commands that do things like "Sort by Subject", but only if the mouse is already positioned above the column headers. which is a pain when using the mouse is painful.
—+ my usual explanation about why consistent keyboard only accessibility is good
Unfortunately, as I described in https://forum.emclient.com/t/emclient-support-for-accessibility-via-speech-recognition-navigation-of-menus-etc, I suffer "computeritis" pain that makes using a mouse and typing using a keyboard painful and difficult and try to use speech recognition to control my computer as much as possible.
In general it is hard to control the mouse using speech recognition, but fairly easy to automate using keyboard events, i.e. by having the speech recognition system emit keyboard events to move the focus to a button or menu item. eMclient is reasonably good in this regard, But this menu seems to be an exception
I so far have not found any way to access this menu by keyboard only. I do not appear to be able to get to it by navigating through GUI items e.g. by back tab, etc. but of course I might've missed that.