eM Client 8 Dark Theme ugly link color in some mail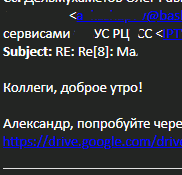 No, this is not a solution of link color in dark theme. Need set default color for links in mail, please.
If you want to change the color of the links, you will need to edit the Theme.
Some of my links customer's choose are black on black
So I can't even read them. I agree with the op, having a means to preset a fallback color. This however isn't necessarily EMclient's issue - the sender specified this ugly color in my case.
if link color == backgroundcolor {
linkcolor="somedefault"
}