Can eM Client add the day & night control when writing email also?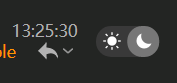 Well, the option is to disable the dark theme temporarily for a message you receive where the text colour specified by the sender makes it difficult to read.
If you have the same issue with all message you compose, maybe consider a different text colour. Because whatever you see when composing the message is what the recipient will see, and they may not have an option to switch themes with a handy button.